News: The President of IWGA Ron Froehlich visited the capital of the World Games-2009 Kaohsiung (Taiwan)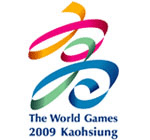 Upon his arrival on January 4, IWGA President Ron Froehlich met with the new Mayor of Kaohsiung, Mrs. Chen Chu, to discuss possible post-electoral changes to the management of the World Games project.

The Coordination Commission (CoCom) Meeting for The World Games 2009 is made up of board members of the International World Games Association (IWGA) and key staffers of the Kaohsiung Organizing Committee (KOC). It is tasked with periodically checking on the state of all preparations for the upcoming games. The CoCom meets from January 4 through 6 in Kaohsiung, TPE, after mayoral elections were held there in early December 2006.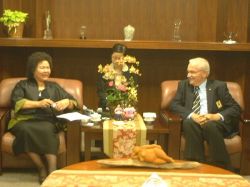 Over the coming days, the CoCom will address several issues in connection with The World Games 2009. Most notably, the work on the Official and Invitational Sports Programs should get finalized.

Mayor Chen Chu had familiarized herself with the operational aspects of the the multisport games' organization beforehand. In her conversation with President Froehlich she pledged her government's continued support to the KOC, assuring Froehlich that The World Games will be a great success during her term of office.

Ms. Chen Chu belongs to the same party as her immediate predecessors: the Democratic Progressive Party.