News: The Multisport Association of Russia has united Mind Sports
On Monday, February, 19, an official meeting with the International Mind Sports Association President Mr. Jose Damiani took place in Moscow Sports Committee.

The meeting was conducted by the Moscomsport Head, the Multisport Association of Russia vice-president Mikhail Stepanyants who as a member of the Russian Olympic Committee EXCO is responsible for the interaction with non-Olympic sports.

The meeting with the IMSA President Jose Damiani was arranged by the Multisport Association of Russia for the purpose of preparation of Russian National team participation in the first World Mind Sports Games in Beijing in 2008 and holding in Moscow the first Mind Games Russian Open.


Mikhail Stepanyants and Jose Damiani discussed the possibility of holding in Moscow World Mind Sports Games in 2012, following the Mind Sport Olympiad in Beijing. Damiani assured that the documents for the nomination of Moscow will be provided in the nearest future. He also emphasized his appreciation of Moscow initiative to hold Mind Games Russian Open soon.

"In three out of four sports – bridge, chess, and draughts – the Russians are the world leaders. Mind Games Russian Open, in my opinion, should be looked at as a master class for the whole world", declared Damiani.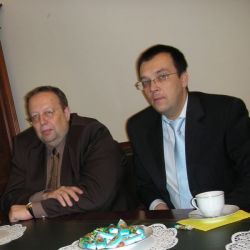 In the course of the meeting with Jose Damiani Secretary General of the Multisport Association of Russia Alexey Kylasov suggested a project of partnership agreement with the IMSA. The agreement project was discussed by the President of Bridge Federation Valery Zakoptelov, President of Draughts Federation Alexander Zakhryapin, President of Go Federation Vladimir Holtzman and the member of Chess Federation Executive Committee Vladimir Bukhtin. Besides, the AMSR first vice-president Alexander Kuznetsov and the vice-presidents of Russian Sport Bridge Federation Viktoria Volina and Mikhail Rosenblum.

The IMSA was established by four international federations: the World Bridge Federation (WBF), International Go Federation (IGF), the World Chess Federation (FIDE)
and the World Draughts Federation (FMJD). The IMSA set the objective to hold Mind Sport Olympiads (Intellimpiad) or World Mind Sports Games after the Olympic Games in the same cities. Chess and Bridge Federations organize their own Olympic Games (after winter and summer Olympics correspondingly). Draughts and go do not have such an opportunity. Intellimpiads are conceived to unite all the mind sports. The suggestion of the IMSA has gained the support of the IOC and the first World Mind Sports Games will take place in October 2008 in Beijing after the Olympiad.

In Russia the national mind sports federations
are members of the Multisport Association of Russia which unites sports recognized by the IOC and other sports not included in the Olympic Games program. Bridge, go, chess and draughts federations established in the AMSR the Mind Games Committee which is now responsible for the preparation of Russian national team participation in the first World Mind Sports Games in Beijing. Besides, it is planning to hold Mind Games Russian Open be the example of future Intellimpiads.