News: Meeting at the organizing committee of the 8th World Games Kaohsiung-2009 (Taiwan)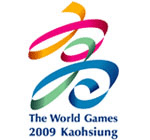 From October, 27 to November, 8, 2008 the Multisport Association of Russia delegation visited preliminary tournaments and the organizing committee session of the 9th World Games Kaohsiung-2009 (Taiwan).

During that period in the bounds of preparation for the 9th World Games 2009 several competitions were held: gymnastics competition (in disciplines: calisthenics, acrobatics, trampoline jumping, sport aerobics), 5th World Youth Korfball Championship, 12th Asian Petanque Championship, water ski demo performance. The championships were on purpose held in advance to work out interaction between the organizing committee services and to define the general level of readiness to the Games.

The World Games 2009 organizing committee invited Olympic committees from different countries to get acquainted with the sport facilities and plans of the preparation for the World Games. The invitation was accepted by a lot of national Olympic committees, in particular German, French, Czech, and South African etc. Russia was represented by the first vice-president of the Multisport Association of Russia Alexander Kuznetsov.

A lot of questions were discussed during the meeting, particularly questions of national delegations presentation during the official competitions, questions of transportation, meals, accommodation and medical care of the sportsmen, and questions of journalists' accreditation. The organizing committee assured everybody that the world financial crisis would not affect the time and the quality of the city preparation to the World Games.

All the sport facilities have been built in advance except for the main stadium that can seat 50000 people. Now the intense modernization of the facilities is going on, even up to total reconstruction.
After inspecting all 23 sport facilities which would host the competitions Alexander Kuznetsov met with Kaohsiung mayor Mrs. Chen Chu and the president of the Association of Recognized IOC International Sports Federations (ARISF) Mr. Jan Fransoo.