News: Russian National Team won the VIII World Games Kaohsiung-2009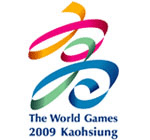 Russian sportsmen won most awards among all the national teams at the 8th World games in Kaohsiung (Chinese Taipei) held on July, 16-26 2009.

All the competitions were covered in mass media by the partners of the Multisport Association of Russia – 'Sportcom' Informational Agency and 'All Sport' Sport Information Agency. News feeds of these agencies were full of reports, articles, participants' interviews and medal charts.


Russian National Team participated in 18 out of 32 sports of the Games program:


Sport acrobatics, acrobatic rock'n'roll, sport aerobics, rhythmic gymnastic, jujitsu, karate, korfball, dragon boats, sport orienteering, parachuting sport, fin swimming, trampoline, sport climbing, squash, softball, sumo, dance sport, wushu.

In competitions of 15 kinds of sport (including demo-sports) our sportsmen won 56 medals, in particular: 47 medals in the official program (18 gold, 14 silver and 15 bronze) and 9 medals – in demo program (6 gold, 2 silver and 1 bronze).

We can call the debuts of our korfball and softball teams at the World Games successful which became the fourth at this tournament of the world leaders. So far it is our sportsmen's best result in the competitions of these sports. Unfortunately, Alexey Severinov lost in the first duel and could not continue competing for medals; he represented one debut sport for Russia – squash.


Full list of Russian prize-winners of the VIII World Games Kaohsiung 2009 (Chinese Taipei) according to sports:


• Acrobatics (1 gold, 1 silver): Aygul Shayhutdinova, Ekaterina Loginova and Ekaterina Stroynova (gold); Alexey Dudchenko and Konstantin Pilipchuk (silver)
• Acrobatic rock'n'roll (1 silver, 1 bronze): Ivan Yudin and Olga Sbitneva (silver), Ivan Klimov and Katrin Gazazyan (bronze)
• Sport aerobics (2 bronze): Ruslan Farakshatov, Mikhail Nazariev, Anton Shishigin, Arseny Tikhomirov, Igor Trushkov (bronze), Alexander Kondratichev (2 bronze)
• Rhythmic gymnastic (4 gold, 1 silver, 1 bronze): Evgenia Kanaeva (4 gold), Olga Kapranova (1 silver and 1 bronze)
• Jujitsu (1 gold, 2 silver, 1 bronze): Igor Rudnev (gold), Dmitry Nobolsin, Sergey Kunashov (both -silver), Fedor Serov (bronze)
• Karate (1 gold, 1 silver): Maria Sobol (gold), Islamutdin Eldaruchev (silver)
• Dragon boats (4 gold): Russian national team: Dmitry Adaev, Anton Agaponov, Tatyana Andreeva, Ilya Eryomin, Darya Eryomina, Andrey Gasan, Sergey Hudoba, Viktor Kiselyov, Vyacheslav Kononov, Olga Kostenko, Alexander Kovalenko, Ignat Kovalev, Alyona Lebedeva, Irina Melantieva, Vitaly Mikhaylovsky, Alexander Mileev, Alexey Mironov, Natalia Novik, Nikolay Autkin, Dmitry Petrov, Nadezhda Petrova, Alexey Popov, Andrey Reshetov, Ivan Revyakin, Galina Savenko, Olga Semyonova, Dmitry Sergeev, Oleg Shelegov, Olga Shelegova, Irina Sidorenko, Alexander Suschencko, Sergey Chemerov, Alexey Terekhov, Stanislav Tilsh, Yury Treushnikov, Alexey Volkonsky, and Idor Zarubin.
• Sport orienteering (2 gold, 1 silver and 1 bronze): Andrey Khramov (2 gold and 1 bronze), Dmitry Tsvetkov (gold and silver), Yuliya Novikova, galina Vinogradova (both - gold)
• Parachuting (2 silver and 1 bronze): Mikhail Kuznetsov, Vladimir Pavlenko, Andrey Silvestrov, Oleg Shalomykhin, Sergey Shenin, Sergey Kulakov, Igor Pugachov, and Sergey Vybe (all -silver), Lyubov Yekshikeeva (bronze)
• Flipper swimming (2 gold, 2 silver, 3 bronze): Vasilisa Kravchuk (2 gold and 1 broth in the relay race), Valeria Baranovskaya (silver and broze in the relay race), Evgeny Skorzhenko (silver and bronze in the relay race), Yana Kosymova (bronze and bronze in the relay race), Andrey Burakov, Pavel Kulakov, Nikolay Reznikov, Medeya Dzhavakhishvili (all – bronze in the relay race)
• Trampoline (4 gold, 1 silver): Viktoriya Voronina, Kirill Ivanov, Andrey Krylov, Anna Korobeynikova (all - gold), Angelika Soldatkina (silver)
• Climbing (1 silver and 1 bronze): Evgeny Vaytsekhovsky (silver), Olga Morozkina (bronze)
• Sumo (2 gold, 1 silver, 3 bronze): Anna Zhigalova (2 gold), Nachyn Mongush (silver), Ekaterina Keib, Nelli Vorobyova, Alan Karaev (all - bronze)
• Dance sport (1 gold and 1 bronze): Alexey Silde and Anna Firstova (gold), Marat Gimaev and Alina Basyuk (bronze)
• Wushu (2 gold, 2 silver and 1 bronze): Darya Tarasova, Murad Akhadov (all- gold), Sait Hayrulyaev, Muslim Salikov (both - silver), Semyon Udelov (bronze)

The Multisport Association of Russia congratulates on the victory all the sportsmen participated in the Games and also all those people who took part in preparing the sportsmen for the event and thanks the informational partners.